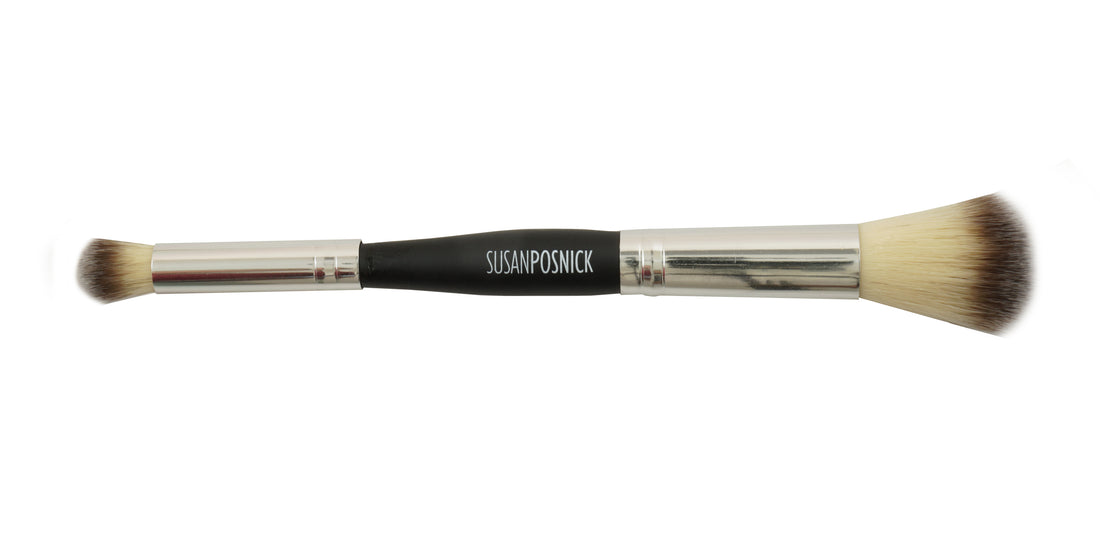 Double-Sided Brush For Face And Eyes
Our Double-Sided Brush is the perfect multipurpose vegan makeup brush for Face. To streamline your tools set, this one brush can be used for both quick and easy application, and blending, with our versatile COLORME natural mineral makeup for cheeks and eyes, or our COLOREYEDEFINE eyeliner/eyeshadow wands.
Use the full side to apply COLORME as your blush
Use the smaller side to apply COLORME as your eyeshadow
Use for blending eyeshadows, such as our COLOREYEDEFINE
Easy to clean
Portable
For daily cleaning use a gentle quick-dry brush cleaner, such as our Lavender & Lemongrass Instant-Dry Make Up Brush Cleaner.
To wash the brush: 
1.) Turn the brush on its side and wet the brush heads under clean running water.
2.) Mix a little gentle shampoo or dish-washing liquid into the brush hairs and work in lightly with fingers.
3.) Rinse all soap thoroughly from the brush hairs.
4.) Squeeze out any excess moisture from the brush hairs and lay the brush flat on a hard surface to air dry.